Practical Products was founded in 1961 by Donald H. Baltzer. While living in Minnesota during the week and working for 3M, Don managed to start a successful business here in Ohio, with the help of his wife Eileen. After 5 long years of running PPCo from afar while still working full time at 3M, he was able to "retire." Don moved back home permanently to be closer to his family, and take over the day-to-day operations.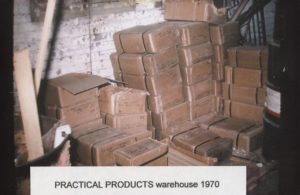 Practical Products began in Don's own basement, and prospered there for many years before the need for an office and warehouse together took over. Practical Products moved to their current location on Virginia Ave in 1991.
Practical Products is proud to be a family run business that employees family as well as other members of the community. Each of Don and Eileen's four daughters have worked here over the years, and their eldest granddaughter is a current employee.  Don took great pride in his company, and was still working every day at the age of 87, just a few short months before his death in December of 2015.